The Best Anti Snoring Products Today
Ahh, good old snoring, that all too familiar sound that keeps your partner up at night and has you waking up feeling tired and grouchy. But don't worry, there is hope. In this post we will discuss the best anti snoring products on the market today, how they work and which ones are right for you. So read on and discover how neither you or your partner needs put up with this annoying habit anymore.
What is Snoring and Why Should I be Concerned About it?
Snoring occurs when the airways become partially blocked by excess tissue in the nose, throat or mouth. As the air passes through it causes this excess tissue to vibrate making the sound we call snoring. And while most people snore occasionally, it becomes a problem when it is affecting the quality of sleep for you or your partner.
Because the person snoring rarely knows that they are snoring, the impact is often first seen in the snorer's bed partner. If your partner is telling you that you snore, you can believe them! You can be assured that your snoring was bad enough to at least disturb their sleep. So even if you don't think that it's affecting you, it is affecting your partner. And in a relationship, that should be enough to motivate you to take action. Besides, chronic snoring is associated with several serious health issues including:
High Blood Pressure
Coronary Artery Disease
Obesity
Diabetes
Anxiety
Depression
Relationship Problems
As you can see, none of these are things you should ignore. But before you can decide on what is the best anti snoring products for you, we need to figure out what type of snorer you are.
The Best Anti Snoring Products Today: The 3 Types of Snoring
All snoring is caused by the same thing, excess tissue that blocks the airways. However, that excess tissue can be found in the nose, throat or mouth. And oftentimes there is more than one cause for snoring. So the first step in determining the best anti snoring device for you is to determine what type of snorer you are.
Nasal Snoring
Breathing through your nose at night is actually the preferred way to sleep. After all, your nose (unlike your mouth) was exclusively designed for breathing. So when the snoring is emanating from the nose there are two main causes. The first is a structural cause such as small nasal passages, a deviated septum or enlarged adenoids. The second main causes are inflammatory conditions that arise from colds, flu, allergies or other environmental factors.
How to Tell if Your a Nose Snorer
There's a pretty easy test you can do at home to see if your nose is the problem. First stand in front of a mirror and hold one side of your nose shut. Breath in through the other nostril and watch to see if it collapses. If it does then you could be a nose snorer. There are a lot of good inexpensive remedies that you can try for nasal snoring that include:
Over the counter decongestants that can reduce inflammation in the nasal passages.
Simple saline solutions that you can spray into the nose to rehydrate the tissues.
Nasal strips that go over the bridge of the nose helping to hold the nasal passages open.
Nasal dilators which are a step up from nasal strips. The dilators are inserted into the nose holding the airway open from the inside.
Air purifiers and humidifiers can help reduce nasal inflammation.
Certain essential oils have been found to be useful in reducing nasal inflammation
However, if your nose snoring is due to a deviated septum or enlarged adenoids we recommend seeing a specialist (ENT doctor). As those problems may require medical intervention.
Mouth or Tongue Snoring
For those of us who are mouth breathers, the tongue is often the culprit for our snoring issues. This is especially true if we also sleep on our backs. You see, as we fall asleep the muscles holding the tongue in place relax. This allows the tongue fall to the back of the mouth where it blocks the airflow.
How to Tell if You're a Tongue Snorer
There's a simple test you can do to determine if you are a tongue snorer.
Open your mouth and make a snoring sound.
Now stick out your tongue as far as it can go.
Gently bite down on your tongue to hold it in place.
Try to make the snoring sound again.
If you can't make the snoring sound with your tongue out or the sound is greatly reduced, then you are at least partially a tongue snorer.
Fortunately some of the best anti snoring products on the market today were designed to mouth/tongue snorers. These snoring remedies generally fall into two categories. First there are stabilizing devices and second there are positional devices. Let's take a look at both and see how they work so you can decide on the best anti snoring product for your situation.
The Best Anti Snoring Products: Stabilizing Devices
Stabilizing devices work by holding or stabilizing the tongue and lower jaw in place so that they can't fall to the back of the mouth obstructing the airway. Some common stabilizing devices include:
Chin straps, they look a little like the old headgear some of us wore from the Orthodontist. They work in two ways, first they hold the jaw forward so that it can't fall back and block the throat. The second way it works is by holding the mouth closed and forcing the wearer to breathe through the nose.
Tongue Stabilizing devices or TSD's work by holding the tongue forward so that it doesn't fall to the back of the mouth. They do look a little funny, kind of like a pacifier, but no one sees you while you're wearing it anyway!
Mandible advancement devices or MAD's are mouthpieces similar to those worn by athletes. You wear them at night and they are designed to hold the lower jaw (mandible) forward so that the tongue and any excess tissue in the mouth doesn't block the airway.
The Best Anti Snoring Products: Positional Devices
Positional devices work by adjusting the position you sleep in. As we said about earlier, for most people, snoring is most pronounced when sleeping on their back. This is because excess or loose tissue in the mouth or throat relaxes and falls to the back of the throat blocking the airway. Positional devices generally elevate the head and neck so that the tongue and other tissues don't fall to the back of the throat. Positional devices tend to less intrusive than stabilizing devices and are therefore more likely to get used. Some of the most popular and effective anti snoring positional devices include:
Anti snoring or wedge pillows. These are just pillows designed to keep the head and neck elevated thus keeping the airway open. They tend to work well for mouth and throat snorers. The downside is that they aren't super easy to travel with and may be uncomfortable for those with neck or back issues.
Smart Nora – The smart nora is a high tech yet simple solution to snoring. It works by gently changing the height of your pillow only when it detects snoring. It does this by monitoring your sleep and at the first signs of snoring a small insert in your pillow slowing inflates raising the head. This system constantly monitors your sleep and adjusts the height of the pillow. It works with any pillow and is easy to travel with. The downside is a price tag of $300.
Adjustable beds, these are a personal favorite! I love my adjustable bed because it's just so much more comfortable to sleep in. You can adjust both the head and foot height for the perfect position. They are also great for watching TV, reading or even using a laptop in bed. The downside is that they don't travel at all, and they tend to be a bit pricey.
The Best Anti Snoring Products: Throat Snoring
Throat snoring occurs when excess tissue in and around the throat partially blocks the airway. Many people don't realize it, but when we gain weight, we gain it all over including the neck. This excess tissue (fat) is normally held in place by the muscles of the head and neck. But when we sleep those muscles relax letting that tissue fall into the throat and blocking the airway. So as you might have guessed, throat snoring is very common in those who are overweight or obese. Again, it may seem obvious to just say lose weight, and while that is certainly helpful there is a lot of evidence showing that snoring and other sleep issues actually cause weight gain.
How to Tell if You're a Throat Snorer
Unfortunately, there is no good way to test yourself at home for throat snoring. You should talk to your doctor about any snoring issue you're concerned with and let them evaluate you. This will include an examination of the throat for any excess tissue. In severe cases they may recommend surgery to remove the excess tissue.
Just a quick personal note, I have had the surgery and found it extremely painful with minimal impact on my snoring. My doctor recommended an additional surgery which I declined. I use a combination of anti snoring devices that work really well for me.
The Best Anti Snoring Products: Throat Snoring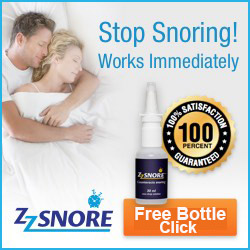 Generally people with throat snoring can find some relief by using a combination of positional devices and MAD's. I also highly recommend a product called ZzSnore. This is a throat spray that helps to lubricate and shrink tissues in the throat. With regular use most people see a major improvement with some reporting complete success.
The Best Anti Snoring Products Today: Conclusion
Despite all of the jokes and old sitcom tropes we have about snoring, it's not something you should ignore. Snoring can have a serious impact on your health, partner and relationship. The insidious thing about snoring is that the damage is done slowly. And just like the proverbial frog in a boiling pot, by the time the problem is noticed, the damage is already done. So whether you're the snorer or the partner of a snorer take heed. In this day and age of easy and inexpensive treatments there is really no need to put yourself at risk.
As always, we hope you found this article, "The Best Anti Snoring Products Today" both informative and entertaining. If you did, may we ask that you share it with your friends and family through social media. It really helps us a lot and is greatly appreciated!