The 10 Best Snoring Cures On the Market Today
Teddy Roosevelt, a president, a soldier, an author…a snorer. Queen Victoria, a monarch, a mother, an inspiration…a snorer.
If you drive people crazy with your notorious snoring, you're in good company. In fact, did you know that 1 in 3 men and 1 in 4 women snore?
You may be the butt of every joke in your family, but snoring is no joke. Not only can it cause relationship issues with your partner, but it can also be a sign of something more serious.
If you want to know how to stop snoring, you've come to the right place. What are the best snoring cures? Can you actually mute snoring?
Read on to find out. Are you ready? Take a deep breath, let's go!
Where Does the Sound Come From?
Have you heard your partner snoring away like an old brass band, or have you heard a recording of yourself sleeping? It can be shocking to hear how loud you actually are. But where exactly is that unattractive sound coming from?
Snoring happens when you can't move air freely through your airways during sleep. This lack of air causes the surrounding tissues to vibrate and make a sound. The more narrow the airway, the louder the snore.
Many who snore have "floppy" or excess tissue that is more prone to vibrations. For others, it's the tongue that causes a block in the airways.
For those who have sleep apnea, the tissue walls of the throat completely collapse. This serious block to the airways requires immediate medical attention.
Call your doctor if you notice:
Your breathing stops when sleeping (i.e. you choke or gasp for air)
Extra loud snoring and tiredness throughout the day
You fall asleep at inappropriate moments
These red flags may indicate that you have sleep apnea or another sleep-related problem.
Common Snoring Causes
Now we know where the sound comes from, but why do some people snore and others sleep soundly?
Some common snoring causes include:
Age – As you get older, your throat muscles start to relax which can cause snoring.
Abnormalities – Enlarged tonsils, nasal polyps, adenoids or a deviated nasal septum. These abnormalities can narrow the throat, leading to snoring.
Allergies and illnesses – Inflammation of the nose and throat may result in snoring, especially during allergy season.
Alcohol – It is a muscle relaxant and can cause snoring if drank before sleeping.
Obesity – Too much fatty tissue around the neck, causing louder vibrations.
Sleeping position – Laying on your back while sleeping can cause an obstruction in the throat.
Large tongue or adenoids – If these structures are enlarged, they can block the airway causing snoring.
Sex – Men tend to snore more than women.
Another reason for snoring may just be because of the way you're built. For instance, men generally have narrower air passages than women. This means they are more likely to snore.
Other hereditary factors may also account to your snoring. For example, a narrow throat, cleft palate or enlarged adenoids.
You can control some of these things, whereas others are hereditary. Either way, there are anti-snoring devices and snoring aids that can help you (and your partner) to have a peaceful nights sleep.
Best Snoring Cures: Shocking Snoring Statistics
Let's not count sheep, let's take a look at these shocking stats from the National Sleep Foundation:
45% of Americans say that poor sleep has affected their daily activities in the past 7 days
Americans sleep an average of 7 hours and 36 minutes each night
35% say their sleep quality was poor
23% say in the past 7 days they have not woken up feeling refreshed
Yes, you're not the only one who has disturbed sleep due to snoring and other sleep disorders. You may wonder what are the best snoring cures for me? Keep reading for the answer.
10 of the Best Snoring Cures
Are you ready to find out how to stop snoring? Here are the top ten best snoring cures on the market today.
Some of these snoring aids may work for you, and some may not. The best thing to do is the trial and error method. If certain anti-snoring devices don't work for you, keep trying until you find the solution.
Check out these 10 snoring aids that will help you get a good night's sleep…finally!
1. Try Oral Appliances
Snoring starts in the mouth, so that's the best place to mute snoring. An oral dental appliance is a fitted mouthpiece that can help position your mouth and keep your airways open. It looks like an athletes mouth guard, but the mouthpiece targets your tongue, jaw, and soft palate to keep your air passage open.
You can ask your dentist for an oral appliance, and they will help to fit and position it. You may need to visit your dentist a couple of times in the first year to make sure everything is working properly. There are also DIY kits online, but be sure they are Dentist and FDA approved before you buy one.
There are many snoring aids on the market, but stop snoring mouthpieces are one of the best snoring cures available for ease of use and simplicity.
2. Get Strapped In
Another handy gadget to mute snoring is a chin strap. What exactly is a chin strap?
A chin strap cups your chin and straps behind your head. This gives support to your jaw and keeps your mouth closed while you're sleeping. Instead of snoring through your mouth, you will start breathing quietly through your nose.
This technique doesn't work for "nose-snorers". Even so, it's one of the best snoring cures on the market for those who snore out of their mouth.
In fact, in one study, an athlete used a chin strap and saw major improvements in his health. He noted a reduction in morning headaches and general drowsiness, and his heart became stronger. A simple chin strap changed his life!
3. CPAP to Mute Snoring
CPAP devices (Continuous Positive Airway Pressure) are great anti snoring devices for those with sleep apnea. The funky looking gadget consists of a pump and mask that covers your nose and mouth while you sleep. The mask pumps pressurized air to keep your airways open during your slumber.
This is one of the most reliable and effective methods of treating sleep apnea. But some find it a little uncomfortable to sleep in, due to the noise and general discomfort of wearing a mask.
4. Update Your Bed
Another anti-snoring device may be to change up your mattress or bed.
If you raise the head of your bed about 4 inches or so, it may help to mute snoring. You can buy adjustable beds that do this. The designs allow you and your partner to change the dynamic of the bed without disturbing each other.
As well as it being able to mute snoring, adjustable beds can help a whole range of other health issues. Such as back pain, arthritis, swollen legs, and even digestion.
As well as adjustable beds, your mattress also plays a huge part in a good night's sleep. Avoid air beds and feather mattress, opt for something high quality and firm. Memory foam mattresses are the best choice.
5. Try Out Nasal Strips
Nasal strips or nasal dilators are a tried and tested way to mute snoring. Apply the adhesive strips to the bridge of your nose. The stiff strip decreases airflow resistance and enhances breathing.
They work for some people, and not for others. For instance, they are not effective for people suffering from sleep apnea. But they are definitely worth a try for the general snorer.
6. Pillow Talk
Many who sleep on their back end up snoring. This is because your tongue falls backward into your throat, obstructing your airways. Sleeping on your side can solve that problem instantly.
But, if you're not used to sleeping on your side, what can you do? A full-length body pillow is an easy fix. It can help to keep you sleeping on your side throughout the night.
If a body pillow doesn't stop you from rolling onto your back, try some tennis balls instead. Sew or tape some onto the back of your pajama top. This will subconsciously teach you to sleep on your side, and once you're used to it, you can give the tennis balls to your pet dog.
Another pillow trick is to buy an anti-snoring pillow. But when you're shopping for special pillows, make sure they won't cause you any neck pain.
If you prefer using an ordinary pillow, keep it super clean. Put them in the air fluff cycle every couple of weeks and replace them twice a year. This will keep irritants, such as allergens and dust mites, to an absolute minimum.
7. Say It, Don't Spray It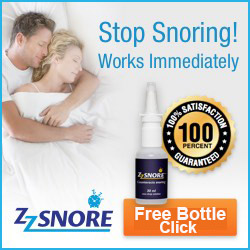 Sprays are another simple option in this list of snoring aids. Anti-snore sprays lubricate the throat tissue, which then minimizes vibrations. This controls the sound of snoring.
Many sprays include natural ingredients, such as peppermint, alcohol, menthol, and glycerin. The majority of sprays create a similar sensation to a cough drop or throat sweet.
Similar to nasal strips, these snoring aids work for some and not for others, especially not those with sleep apnea.
8. Get Rid of Irritants
Dry air can irritate the nose and throat and cause swollen nasal tissues. This stuffy nose may cause snoring.
Try using a humidifier in your bedroom to keep the air moist. It's a simple trick. But this may help to reduce causes of an itchy nose, and in turn, snoring.
Another irritant for your nasal passages are allergens and dust mites. As mentioned, keeping your pillows dust-free is a huge benefit. But also look for other places dust may be hiding.
For example, when was the last time you cleaned your ceiling fan? And do you let pets in your room? Animal dander, tiny flakes of skin from animals, is a common irritant and can cause snoring.
9. Lifestyle Change
One of the best snoring cures has to be a lifestyle change. Unless you've inherited snoring or a medical condition, a lifestyle change may be the answer.
If you're overweight, try to lose weight. Losing weight can reduce the excess fatty tissues in your neck. This, in turn, may reduce your snoring.
As mentioned earlier, alcohol can relax the muscles in your throat and cause snoring. Another vice that effects your sleep are cigarettes. Smoking can cause irritation to your airways, which can lead to snoring, so try to quit if you can!
Keep note of how much water you're drinking, as your palette becomes stickier and drier when you're dehydrated. Staying well-hydrated can keep your throat lubricated, which can lessen snoring. Drink lots of water to keep hydrated, but avoid dairy or soy milk right before bedtime.
And whatever you do, make sure to get enough sleep! Not getting enough sleep can lead to your throat muscles becoming more relaxed, which leads to snoring.
It's true, a lifestyle change may be just what you need to mute snoring. Prevention is better than a cure, after all!
10. Surgery — The Last Resort
Surgery is, no doubt, the last resort when it comes to snoring aids. Some surgical procedures may include:
UPPP (Uvulopalatopharyngoplasty)
TAP (Thermal Ablation Palatoplasty)
Tonsillectomy
Adenoidectomy
These procedures increase the size of your airway by removing tissue. During this kind of surgery, they may find and correct abnormalities in the nose and throat too.
Another procedure it LAUP (Laser-Assisted Uvulopalatoplasty). This delicate procedure shortens the Ulva and uses small cuts to stiffen the surrounding tissues. This should prevent vibrations that trigger snoring.
There are several other treatments available. But, before you opt for such an invasive treatment, make sure to exhaust all the other options on this list. A simple mouth guard or a change of pillows may be the simplest solution.
Nobody wants to go under the knife, after all.
Are You Ready to Catch Some Zzz's? The 10 Best Snoring Cures On the Market Today
By understanding how and why you snore, you'll be better able to find the right snoring solution for you. So don't be afraid to try several options and even combine them. Once you find the right cure for you, you'll find yourself sleeping like a baby before you know it!
While snoring can affect your personal well-being, what about your partner? They may be sleep deprived because of your noisy slumber! Click here for some great tips on how to stop snoring from damaging your relationship.
As always, we hope you found this article "The 10 Best Snoring Cures On the Market Today" both informative and entertaining. If you did, may we ask that you share it with your friends and family through social media. It really helps us a lot and is greatly appreciated!