5 of the Best Mattresses for Snoring
5 of the Best Mattresses for Snoring
Nearly 45% of adults snore on occasion, and about 25% snore all the time. Snoring can disturb the sleep of both the snorer and their partner. 
Read on for a comprehensive explanation of the different types of snoring and the best mattresses for snoring-prevention.
What Causes Snoring?
When a person is asleep, their throat, mouth, tongue, and airways relax. If any of these areas vibrate, the result will be one of several snoring sounds. 
Other contributing factors are back sleeping, alcohol use, smoking, or being overweight.
Nasal Snoring
This type of snoring is most common temporarily when a person has a cold or during allergy season. When nasal passages are blocked, air has difficulty getting by and a vibrating snore is the outcome. 
In some cases, nasal snoring is due to an abnormality in a nasal passage, such as a deviated septum. Medication or surgery may be required to fix it.
Mouth Snoring
The most common snoring for those who sleep on their back or sides is mouth snoring.
Mouth snoring happens when the soft tissues in their palate vibrate against one other due to breathing through the mouth.
Tongue Snoring
When the tongue is relaxed in sleep, it can move into the back of the throat and block the throat. People who use sleeping aids, antihistamines, or have consumed alcohol are prone to this type of snoring as these are all relaxants.
Sleep Apnea
Sleep apnea is a chronic condition that blocks the airways. If someone stops breathing momentarily during sleep, chances are he or she has sleep apnea. 
On top of snoring, sleep apnea may cause headaches, restless sleep, fatigue, and a dry mouth. A doctor can diagnose this condition through a sleep study. 
Hearing  weird sleep sounds besides snoring? Read what they are and what to do about it.
Best Position for Snoring
The best position to prevent snoring is to sleep on your side. Lying in this position helps keep your mouth shut, which stops the snoring. 
To help you train yourself to sleep on your side, you can buy pillows to help side sleeping.
And of course, practice makes perfect. If you can only sleep on your back, you can reduce your chances of snoring by raising your head about 4 inches.
This will open up the airways. You can use a pillow or get a bed with an adjustable base.
Best Mattresses for Snoring Prevention
When shopping for a new mattress, look for a model that is geared towards side sleepers. The models that are best for side sleepers are also the best mattresses for snorers.
Your mattress can trigger snoring. The best mattresses for snoring are ones that properly support your head, neck, and back.
If you suffer from habitual snoring, choose a medium firm mattress. The ultra-soft beds out there do not give you enough support to keep your airways fully open. 
On the other hand, an overly firm mattress can cause side sleepers to roll onto their backs. Back sleeping is the worst position for snoring. 
You need the perfect balance of spine alignment support and medium firmness to help you stop snoring once and for all.
Top 5 Picks on Best Mattresses for Snoring
Is there such a thing as an anti-snore mattress? Not exactly. A mattress that is comfortable, the right firmness and allows you to get a deep, restful sleep is a good one to prevent snoring. 
If your mattress is uncomfortable or if you wake up in the night because you are hot while sleeping, you can toss and turn and get into a bad position for sleeping. This could lead to snoring. 
A good mattress will let get comfortable when falling asleep and allow you to remain that way all night. Best of all, it will ensure both you and your partner get a good night's sleep. Read best snoring solutions for couples.
1. Nectar Mattress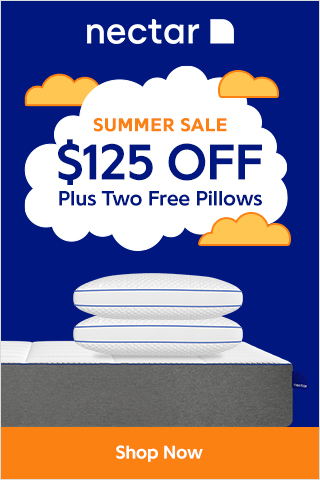 The Nectar mattress is a memory-foam bed that comes with a forever warranty. They guarantee a good night's sleep as long as you own the mattress.
If impressions deeper than 1.5 inches form on it at any time they will replace the mattress. They also give you a full year to test out the mattress (so you can try it during all four seasons). 
It contours to your body and is excellent for side sleepers to avoid feeling pressure on hips and shoulders. This mattress gives the feeling of sinking into the mattress.
It is also highly breathable with an eco-friendly cover and gel foam layer. The only downside is that this product is made in China.
2. Eight

The Eight Smart Mattress is one of the best mattresses for snoring prevention due to its high-tech sleep tracking technology.
The mattress has sensors seamlessly integrated in it that will monitor your sleep.
You will get a report on how you slept every morning via your smartphone. You'll be able to see just how much time you spent in deep (REM) sleep vs. how many times you woke up or had your sleep interrupted. The app will also make suggestions on how to improve your sleep. 
It's designed for minimal disturbance when the person next to you moves. This mattress can be  used on anything! A box spring, slatted frame, right on the floor, or with an adjustable bed frame. 
Eight is one of several mattresses that cuts out the middleman and ships directly to the buyer.
There are no retail stores to test out the mattress, but their return policy is simple and risk-free.
3. Tomorrow Sleep
The Tomorrow Sleep mattress is one of the best mattresses for snoring with its combination of memory foam and individually wrapped coils. 
This baby comes from a leader in the mattress industry: Serta Simmons.
It comes with a 10-year warranty plus a 365-day trial period. 
With Tomorrow Sleep, you can choose from two levels of firm: medium firm or medium soft. This hybrid model has an independent coil system that provides inch by inch support for the back and neck which will help stop snoring.
Side sleeping is preferable on this bed. It feels light, cool and breathable according to reviewers. The motion separation layer helps prevent you from disturbing your partner (and vice versa).

Here comes another hybrid contender for best mattress for snoring. 
The Zotto mattress is a four layer foam mattress that is designed to provide excellent cooling. They developed a ThermaPhase comfort layer which
consists of two different phase-change materials that react to temperature fluctuation.
The result is a "Smart" mattress that both cools the sleeping surface when it's too warm, and redistributes absorbed body heat when it's too cool.
The mattresses come with a 100 night risk free trial.
5. DreamCloud Memory foam

The DreamCloud mattress is rated as "luxury firm" (6.5 out of 10 for firmness).
You will get a full year to try it plus a lifetime warranty. You get 8 layers and a whopping 15 inches of material for a great night's sleep.
Make sure your frame can accommodate a mattress this size. Or, you can always put it directly on the floor. 
The gel-infused memory foam will keep you cool. They will even come and remove your old mattress when they deliver your new one! Talk about service! 
Good for back, side and stomach sleepers alike. The cover is a  cashmere blend and the mattress itself is tufted for optimal luxury.
5 of the Best Mattresses for Snoring- Additional Tips
A Pillow to Stop Snoring
Just like a good mattress, a pillow can aid you in your quest to stop snoring. 
Various orthopedic pillows keep your head and neck elevated. This allows you to breathe normally without restricted airways. For side sleepers, the highest risk of snoring comes from heads rolling up.
Certain pillows keep your head facing sideways, which reduces the risk of snores. These pillows will take some time to getting used to and some people may find them uncomfortable at first.
If you are unable to adjust to using an anti-snoring pillow, then it is advisable that you seek out alternative anti-snoring solutions. 
The right pillow is just as important as the right mattress to keep your airways open.
These pillows can greatly reduce or even stop snoring in some cases.
Types of Snoring Pillows
Snoring pillows come in different shapes and types and materials.
They are basically divided into these major categories: wedge pillows, contour pillows, CPAP pillows, and cervical support pillows. 
Memory foam pillows give excellent neck and back support which is important for snorers. These mold to the shape of your head and neck, which is also a factor in reduced snoring.
Contour pillows provide proper alignment for your head, neck, and shoulders while you are sleeping. They have an indent in the middle to keep your head in the center. This prevents your head from rolling into a position that allows you to snore. 
Wedge pillows make a 45-degree triangle. They elevate the head, neck, and back slightly from the mattress. In turn, this keeps your airways clear and stops your tongue from dipping into the back of your throat. 
CPAP (continuous positive airway pressure) pillows are to be used with CPAP machines. These machines are essentially oxygen masks that help people who suffer from sleep apnea or heavy snoring. 
Regular pillows could cause the face mask to slide off if the wearer rolls his or her head while sleeping. CPAP pillows keep the mask  in place while still giving the right amount of support to the head and neck. 
Neck cervical support pillows are another option to stop snoring. These pillows cradle both the neck and head yet allow the lower spine to be in a neutral position. 
Check out our best 3 anti-snoring pillows.
Other Tips to Prevent Snoring
There are other lifestyle changes you can make in conjunction with changing your mattress and pillow that can help reduce or eliminate snoring completely.
Stay well-hydrated
Without enough water each day, secretions from the soft palate and nose become sticky and results in snoring. 
Some experts disagree on how much water you actually need. Most agree it depends on how much you weigh. At the very least you should be drinking 8 glasses of water each day.
Calculate how much water  to drink by body weight. Some experts believe that you how much water you need depends also on age.
Calculate your water intake needs based on your age.
It is almost impossible to drink too much water so go ahead and drink up. Like any good habit, the more you practice drinking lots of water, the easier it will become to do it naturally. 
Drinking enough water has many health benefits besides helping you stop snoring, so it's a win-win!
Lose Extra Pounds
If you are overweight, your face, throat, and chest are weighed down. Extra weight might not feel like a burden to you, but it does take a toll on your muscles.
Your muscles keep your airways open when you are sleeping. If there is fat around these muscles, it makes it much harder for the airways to stay open. 
So if you've been thinking it's time to lose some weight, this is just one more very good reason why you should.
5 of the Best Mattresses for Snoring
Final Thoughts
Snoring is a health condition that should not be ignored, and the products mentioned above are the best mattresses for stopping it.
Eliminating snoring is beneficial for both you and your partner's health and well-being. 
It may just seem like a small condition that is no big deal, but in fact, airway blockage may lead to serious health complications. For example, a lung infection can be a result of breathing through the mouth. There is also a risk of stroke or congestive heart failure. Finally, permanent liver scarring has also been connected to snoring. Don't let this health condition linger for one more day. Check out various anti-snoring products you can try.
As always, we hope you found this article, "5 of the Best Mattresses for Snoring – Get A Good Night's Sleep" both informative and entertaining. If you did, may we ask that you share it with your friends and family through social media. It really helps us a lot and is greatly appreciated!