10 Easy Snoring Remedies You Can Do at Home
Around 40% of men and 24% of women are usual snorers, and the majority of people will snore at least once in their life.
Aside from being potentially disruptive to others, snoring can be a sign of a bigger issue. Sleep apnea can lead to heart problems, diabetes, or death if it goes untreated. Other side effects include infrequent sleeping, light sleeping, breathing interruptions, and drowsiness during the day.
Snoring can also cause insomnia and daytime tiredness, which can interfere with daily life.
Get on the path to better health and check out these 10 easy snoring remedies you can do at home.
Easy Snoring Remedies: The Reasons People Snore
Snoring occurs when proper air flow is cut from moving through the throat and mouth or nose. This compressed flow creates tissue vibrations, which produce the snoring sound.
Being obese or not exercising enough can increase fat in the throat and cause snoring. Women going through menopause are more prone to snoring because they tend to gain weight. Middle-aged people lose muscle tone in their throat and it becomes narrower, so they are more likely to snore.
In general, men make the disruptive sound more than women. A narrower throat and other features are the cause. Illnesses that affect the nose and throat, or just having a stuffy nose, make people snore. Alcohol relaxes the throat muscles and smoking diminishes breathing quality. Sleeping in a certain position can cause snoring. Asthma and sleep apnea also correlate with snoring.
Different Types of Snorers
The first step to treating the condition is to determine the type of snorer you are.
If your mouth is shut, the problem could be with your nasal passageway and tongue. Someone who has their mouth open may have a semi-blocked throat. People who sleep on their back tend to breathe through their mouth and are more likely to snore.
There are people who seem to snore independent of their sleeping position. This could indicative of sleep apnea.
Easy Snoring Remedies
Reduce or eliminate snoring for a more comfortable sleep and better health by using one or more of these 10 snoring remedies.
1. Sleep in a Different Position
Sleeping on one's back often causes loud snoring because the tongue moves to the back of the mouth and on the soft palate, in the way of airflow.
Snoring is likely to stop or be reduced if you sleep on your side. Air will have a wider path in and out of the mouth or nose.
Propping your head up with an extra pillow or, if you have a reclining bed, angling it so your head is raised more may help, too. These tips will open the nasal passages.
2. Get Enough Sleep
Make sure you get the recommended amount of sleep – 7 to 9 hours for adults. Staying up late or working into the night can overtire you. When you finally fall asleep, the throat muscles aren't as stiff and this can cause you to snore.
3. Keep Nasal Passages Open
If you know that you snore through your nose, there are several ways to stop or reduce this. Taking a warm shower and rinsing out your nose with salt water before sleeping will open your nasal passages more.
Nasal strips and nasal dilators are other options. Strips attach to the bridge of the nose and dilators attach closer to the nostrils. Nasal sprays are used to bring down any inflammation in the nose and throat, which could inhibit proper air flow.
4. Dust and Change Bedding
The more particles in the air, the more your nose will get blocked. Dust your bedroom regularly. This especially includes the ceiling fan if you have one.
Wash your sheets and comforter at least once every other week. Replace your pillow every six months. Allergens from dust and pet fur build up in pillows and bedding over time, triggering you to snore.
Apart from dusty air, dry air can also induce snoring. It does this by drying the inside of the nose and the throat. A humidifier will get rid of this problem.
Allergies make it difficult for many people to breathe through their nose. They may be forced to breathe through their mouth while sleeping. This makes snoring more likely. To avoid this, take prescription or over-the-counter allergy medication.
5. Drink Enough Water
Not drinking enough water makes the substances produced in the nose and mouth stickier, and can lead to snoring.
On average, women should drink 11.5 cups and men should drink 15.5 cups of water daily. This will differ with outside temperature, exercise, and other factors.
Avoid dairy before bed. Dairy products create mucus in your throat and can cause snoring. Try not to eat a full meal before bed. Snoring can be created from your stomach pushing on your diaphragm, the muscle we use to breathe deeply.
6. Avoid Drinking and Smoking
Drinking alcohol loosens the tongue and throat muscles. It can be to an extreme extent if you drink a hefty amount.
The snoring will get worse the more you drink. This can be eliminated by limiting how much you drink at night, or not drinking late at all.
Smoking affects the lungs and irritates the airways increasingly the longer someone smokes. This diminishes their breathing quality and intensifies snoring.
There's a chance that quitting smoking will reverse these adverse effects and limit or stop snoring. It depends on how much the lungs and air passages have been damaged.
7. Use Oils and Herbs
Various oils and herbs can help the body and ease snoring. Peppermint oil works against congestion of the nose and chest. It can also bring relief to a sore throat.
Goldenseal is also used for congestion. It comes in a pill, powder, or liquid form. Decaffeinated peppermint or goldenseal teas are an alternative option.
Eucalyptus, popularly used for colds, can be inhaled in several ways to open up the air passages. You can put the herb in a steam inhaler or use a steam bowl. For the steam bowl, add five drops each of eucalyptus and peppermint, and inhale.
Indigestion can actually create snoring. Fenugreek is an herb that can help with indigestion relief and, therefore, stop snoring from occurring. Another herb that helps is spearmint, which can also eliminate acid reflux symptoms.
8. Vitamin C
Vitamin C may be able to reduce snoring because it aids a person's immune system. The immune system will keep the sinuses clear by fighting off potential illnesses.
Foods rich in this vitamin include red peppers, broccoli, oranges, strawberries, and pineapple.
It is possible to have too much vitamin C, however. Although it isn't life-threatening, the side effects are still unpleasant. Be sure to maintain a healthy daily intake of the vitamin.
9. Maintain a Healthy Weight
Having excess weight will increase the likelihood of snoring. When you lay down, your throat may become narrow enough that the tissues vibrate and that loud noise shoots out. Being overweight also results in loose throat muscle.
Overweight men are very likely to have this issue because as they gain weight more fat goes around their neck than it does for women. If someone has snored even before they gained weight, then losing it may not have a large effect.
Monitoring your calorie intake, choosing a mixture of healthy foods, eating smaller portions, and regular exercising are the smartest ways to reach a healthy weight.
10. Get a Dental Appliance
A dental appliance, or oral appliance, fits in the mouth and can stop snoring altogether.
A mandibular advancement device, or MAD, prevents the tongue from hitting the back of the throat and obstructing the air passageways. The tongue is kept forward during sleep by bringing the lower jaw forward.
As the name suggests, a vestibular shield acts as a shield against air entering the mouth. The person wearing it will be more likely to breathe through their nose. The shield is used for those who snore with their mouth wide open.
Dental appliances can potentially cause pain, dry mouth, increased salivation, TMJ arthritis, and a changed bite from the moved jaw. If you decide a dental appliance is a right choice for you, make sure you check in with your doctor multiple times after the fitting to avoid any possible problems.
Not So Easy Snoring Remedies
Surgeries
Surgery is a long-term fix for snoring. There are different surgeries that correct different problems.
LAUP, or laser-assisted uvulopalatoplasty, is a procedure where part of the uvula and soft palate are removed. UPPP, or uvulopalatopharyngoplasty, is more intense and involves entirely removing or just reducing the uvula, tonsils, and soft palate.
During a palatal stiffening operation, the soft palate is burned in order to stiffen it. Another stiffening operation is the pillar procedure, which involves injecting implants into the soft palate.
Somnoplasty, or radiofrequency ablation, induces lesions on the soft palate to shrink the tissue. In an injection snoreplasty, a chemical is inserted into the soft palate to reduce its size.
Either due to a nose injury or attaining it through genetics, a deviated septum can greatly affect breathing through the nose and cause intense snoring.
A deviated septum occurs when the wall between the nasal passages is bent in some way. This can lessen the air flow in one nostril or block it off entirely. Septoplasties correct deviated septums. 
What to Avoid 
Ineffective strategies are shock bracelets and acupressure rings.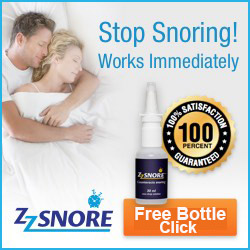 If you are using a throat spray, make sure it is one that lubricates the throat and reduces inflammation. Snoring isn't caused by a dry throat so just adding moisture isn't enough.
Shock bracelets are supposed to send a weak electrical shock whenever they detect you're snoring. This probably won't stop you from snoring while you're asleep. The shock will most likely wake you up, making you energy-depleted during the day, or you'll just sleep through it and keep snoring.
Acupressure rings, or anti-snore rings, are supposed to increase energy flow by using acupressure and help proper breathing during the night. However, these pressure points differ from person to person. Acupuncture actually requires a diagnosis before you can treat it, meaning it's easy for things of this sort to have no effect.
It's very likely an acupressure ring won't do anything to reduce snoring.
A chin strap is worn around the head and the bottom covers the jaw and chin. It was designed to keep the snorer's mouth shut so they would be forced to breathe through their nose, ceasing snoring.
Unfortunately, studies have shown that chin straps are only effective in treating snoring from the throat or tongue. Nasal snorers will not get relief.
Easy Snoring Remedies: How to Cope
If you sleep near someone who snores and has trouble sleeping because of the noise, you can wear ear plugs, wake the person up, or turn them on their side to ease the snoring. 
Constantly having to wake them up during each night will dramatically interrupt their sleep pattern. However, after they fall back asleep the snoring may decrease. 
Snoring that isn't too loud can be muted by using earplugs. They may not be helpful otherwise. 
Gently turning the person on their side can effectively reduce or stop snoring without disturbing their sleep.
Try these out and, if you're the snorer, try out the 10 easy snoring remedies explained in this article. If none of them seem to work, you may want to talk to your doctor or contact us for help.
As always, we hope you found this article "10 Easy Snoring Remedies You Can Do at Home" both informative and entertaining. If you did, may we ask that you share it with your friends and family through social media. It really helps us a lot and is greatly appreciated!